Sandra L. Olsen
---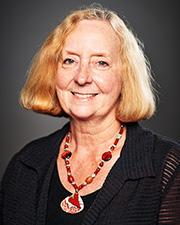 Professor
Curator in Charge, Division of Archaeology, Biodiversity Institute/Museum of Natural History
Museum Studies
KU Biodiversity Institute
Contact Info
Spooner Hall 6E
Lawrence
1340 Jayhawk Boulevard
Lawrence, KS 66045
---
Biography
—
Dr. Olsen is the Interim Director of Museum Studies and Curator of the Division of Archaeology, Biodiversity Institute/Museum of Natural History. She is a Museum Scientist who has spent her career as a museum curator and academic. As a researcher, she is a zooarchaeologist who has focused much of her career on the investigation of horse domestication, directing excavations of Copper Age sites and doing research in Kazakhstan. In recent years, she has turned to advanced imaging of petroglyphs in Saudi Arabia, with particular interest in the impact of climate change on the Arabian Peninsula
Research
—
Most of my career I have focused on the horse-human relationship through time, from Pleistocene paleolithic hunters to Copper Age horse domestication to the horse in Arabian rock art and the emergence of the Arabian horse breed. I am also interested in developing techniques for recording rock art using advanced imaging, and how climate change is reflected in Arabian rock art. In the past, I did considerable research, including my PHD dissertation, on bone artifact manufacture and use. I have adapted scanning electron microscopy to archaeological materials, and use a variety of imaging techniques, including 3D laser scanning, Gigapan robotic panoramic photography, and reflectance transformation imaging (RTI) in the study of rock art.
Research interests:
Zooarchaeology
Bone artifacts
Old World Prehistory
Eurasian steppe
Arabian rock art
Petroglyphs
American Southwestern archaeology
Museum studies
Horse domestication
Teaching
—
I alternate teaching Human Osteology and Zooarchaeology and also teach Museum Anthropology. All are primarily Anthropology courses, but are cross-listed in Museum Studies. Both undergraduate and graduate Anthropology credit, and graduate Museum Studies credit are possible with all three courses. I will begin teaching Natural Sciences Curation and Collections Management, Museum Studies 710, in the fall of 2018. It is cross-listed in Biology.
Teaching interests:
Human skeleton
Zooarchaeology
Museum Anthropology
Natural Sciences Curation and Collection Management
Service
—
In 2014-15, I have served on the Executive Council for Graduate Studies, the Summer Research Fellowship Review Committee, and the Argersinger Dissertation Award Review Committee. In 2015-16, I have served on the Board for Global and International Centers and the Senate Library committee. In 2016-18, I continue to serve on the Senate Library committee.