Coil Initiative
---

Coil Initiative 
The Kansas African Studies Center (KASC) at the University of Kansas (KU), USA is pleased to announce our Collaborative Online International Learning (COIL) Initiative. COIL experiences take advantage of technological affordances to enable students at distant universities to interact with each other in the context of the same course. The initiative offers paired grants of USD $5000 to an instructor at a KU professional school (paid as summer salary) and a faculty partner at an African University (paid as a stipend) who collaborate in development and joint offering of a COIL experience.  To be eligible for the award, the KU faculty partner should have their primary affiliation with a KU professional school—including Schools of Architecture & Design, Business, Education & Human Sciences, Engineering, Health Professions, Journalism & Mass Communications, Law, Medicine, Nursing, Pharmacy, and Social Welfare—and the resulting experience must occur in a course that carries a designation associated with that professional school. There are no constraints on the departmental affiliation of the African university faculty partner.
KASC is currently accepting proposals for a COIL experience (course or module) offered in the KU Fall 2023 semester (i.e., August to December) or Spring 2024 semester (i.e., January to May) related to the theme of Migration, Citizenship, and Identity. Interested applicants should submit proposals to kasc@ku.edu by the deadline of September 30, 2023. Proposals should include the following components:
CVs of both KU professional school and African university partners,
the syllabi for the linked classes from each institution, and
a description of the joint activities that constitute the COIL experience.
Please note that, although successful proposals will likely involve greater integration of activities rather than less, there is no requirement that instructors at partner institutions make identical assignments or conduct every minute of every class session as a joint meeting.
Please feel free to contact KASC (kasc@ku.edu) if you have questions about the initiative.
Past Coil Awardees
The University of Kansas School of Nursing and Moi University School of Nursing and Midwifery
The University of Kansas School of Nursing (KUSON) and Moi University School of Nursing and Midwifery (MUSONM) in Kenya coil project aimed to integrate a global health perspective into midwifery courses. Students learnt how to address healthcare delivery systematically by gaining insights into international practices: legal, political, cultural, and ethical issues; policy and advocacy on all levels; leadership to impact change in health systems and population health; and the various roles of midwifery in a global setting.  
Nursing schools are preparing the next generation of midwives to attend to mothers from diverse backgrounds: culturally, geographically, and economically. Meaningful, intentional engagement is critical to developing cultural humility and supporting competent care of those with diverse life experiences, beliefs, and perspectives. The cultural exchange within the virtual classroom format aligns with the International Confederation of Midwives (ICM) model of care that focuses on the individual within the context of their community. A course collaboration would provide a bi-directional educational benefit, facilitate future professional partnerships, and create collective intelligence on midwifery practice.  Detailed poster can be found by clicking on this link.
Poster Virtual Midwifery Student Collaboration
Poster for the Virtual Midwifery Student Collaboration, a collaboration between Moi University, Kenya and University of Kansas Medical center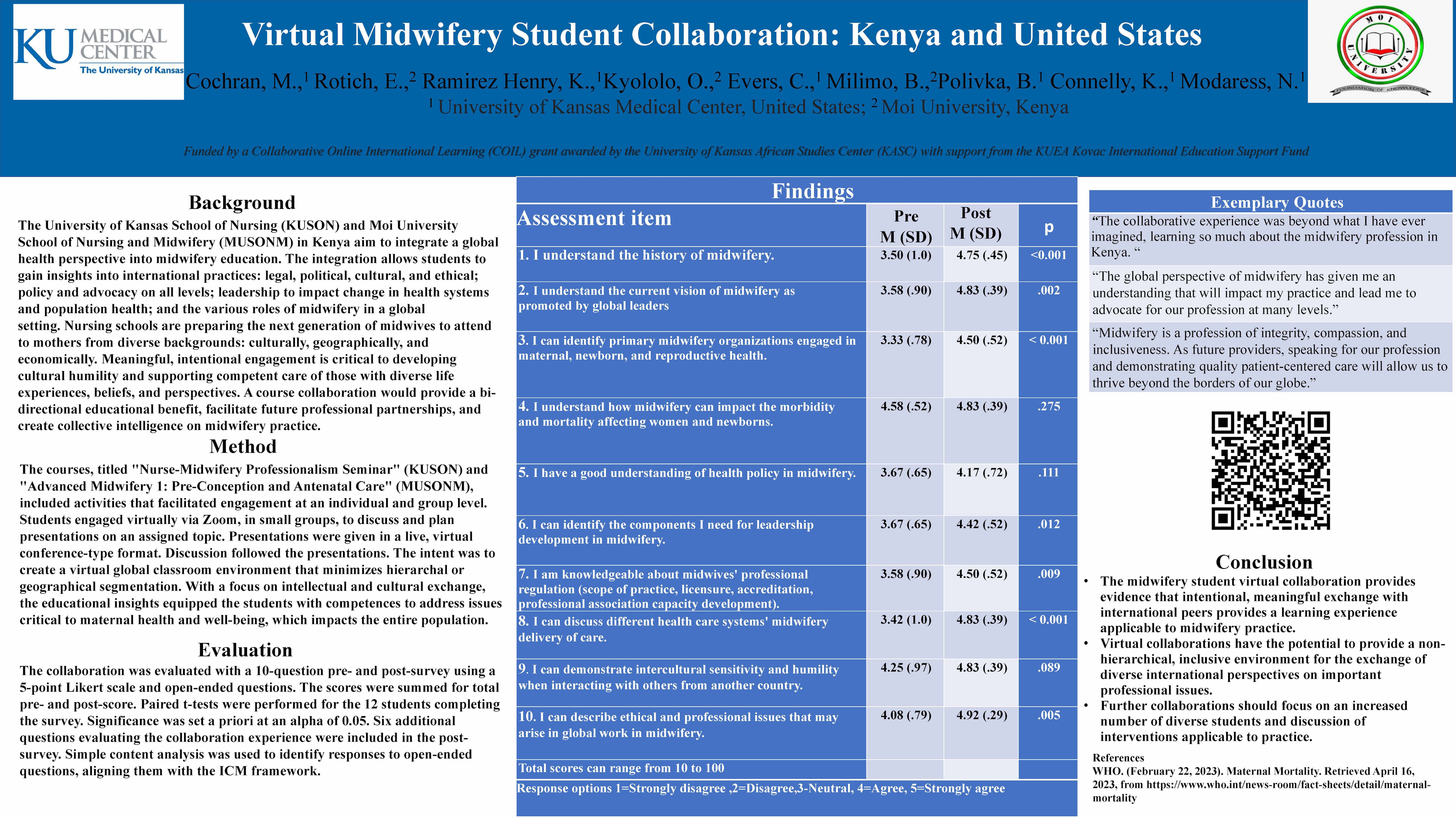 The University of Kansas Medical Center and the University of Ghana
The RESP 620 Community and Global Health course was developed as an integral and required course in the KU Respiratory Care program in 2019 as an avenue to prepare respiratory care students for engaging with the increasingly diverse patient populations they will serve upon graduation.  The course explores a wide variety of major health topics and issues that impact people around the world, aiming to expand students' awareness and understanding of factors that impact access to healthcare, burdens and treatment of disease, public health education, resource limits and governmental approaches to population health.  As a pilot program, the KU Respiratory Care invited Ghanaian respiratory therapists and UG students to join an 8-week version of the RESP 620 course as virtual participants in a synchronous classroom. This experience provided a real-time opportunity for students in both settings to engage with and learn from other healthcare providers from across the globe, something they may otherwise could have only read about in a similar course. A detailed poster can be found by clicking on this link.
Poster for the virtual Community and Global Health course
Poster for the virtual Community and Global Health course, a collaboration between University of Ghana and University of Kansas Medical center