Omofolabo Aminke Ajayi-Soyinka
---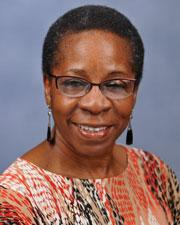 Women, Gender & Sexuality Studies
Theatre
Biography
—
Professor Ajayi-Soyinka has joint appointments in Theatre Department and Women, Gender and Sexuality Studies (WGSS) departments. An interdisciplinary scholar, her teaching, research publications and creative works encompass theatre, performance, literary and gender studies, including the critical theories that inform them. She was honored with a Glidden Visiting Professorship at the University of Ohio, Athens (Winter 2011).
Ajayi's teaching encourages independent thinking skills in students, and make them value the process of learning as well as its end result that will serve them for life beyond the gates of KU. Her Theatre courses include "Race and the American Theatre," "African Theatre," "African Dance," "Myth and the Dramatist," and "Post-Modern Theory and Criticism."
Her research publications, examine how disciplines theorize, analyze, challenge or breakdown discourses on power, gender, race, sexuality, cultures and nationality. In addition to many book chapters, Encyclopedia entries, and articles in scholarly journals like Journal of Dramatic Theory and Criticism, Signs, and Research in African Literatures, Ajayi is the author of Yoruba Dance (1998) and co-editor of African Literature at the Millennium" (2006).
Also a creative artist, Ajayi-Soyinka's works interact and intervene with her teaching and scholarship. Among her credits are - Choreographies: Death and the King's Horseman, (Kalamazoo, 2008); Oyedipo at Kolhuni, (Greece, 2002); Performances: "Resident Alien," a short story; "Phillis Wheatley – I Too Sing Freedom," (Urbana-Champaign, 2010), and Poetry: "Give Her the Earth to Work." (2003).
In 2009-2010, Professor Ajayi became the President of African Literature Association (ALA), an international academic organization founded 1975; she was previously the Vice President. She also served on the Executive Council of other organizations including African Studies Association, and Association of African Women Scholars, and Lawrence Arts Council, KS. She is on the editorial board of several scholarly journals.
Research
—
Gender, Nationalism and Critical Theory in African Literature: Efua Sutherland. Relationship Between African Immigrants in the U.S. and African Americans. Immigration, Exile and Writing, African Women Immigrants.
Research interests:
African Feminism
Women
Gender
Performance Aesthetics
Literary Studies
Migration in Africa and the Diaspora
Critical Feminist Concepts
Performer
Choreographer
Poet
Storyteller