Judith Kay McCrea
---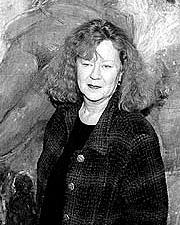 Professor Emeritus/Emerita
Contact Info
Chalmers Hall 503
Lawrence
1467 Jayhawk Boulevard
Lawrence, KS 66045
---
Biography
—
In 1980, Judith McCrea applied for a visiting position at the University of Kansas, where she remained and advanced to become the chairperson of the art department. As chair from 1993-2006, she was instrumental in broadening the curriculum and promoting diversity within the faculty. In 2003, Judith was awarded a Center for Teaching Excellence "Faculty Fellows Grant" to develop instructional materials in painting. She was the recipient of the Governors' Art Award for Achievement in Visual Art for the year 2000; the Provost's Award for Outstanding Contributions to International Education for the year 2001; and in 2002, was named Outstanding Woman Educator at KU.
Judith received both her BFA in 1967 and her MFA in 1970 at Wichita State University. Her work is in numerous private and public collections, including additions to the permanent collections of the Nelson-Atkins Museum of Art, Kansas City, Mo.; Museo Contemporaneo, Asuncion, Paraguay; Emprise Bank Regional Collection; and the Wichita Art Museum, Wichita, Kan. In the past two years, she has shown in Chicago, New Orleans, Tucson, Florence, Italy and Edinburgh, Scotland.
Judith has been a visiting artist at universities across the United States. In Paraguay, she taught and exhibited under the auspices of the Washington-based exchange program Partners of America and later, as a representative of the U.S. government through a grant from the United States Information Agency.
A recent series of small paintings on paper document the artist's Kansas farm during an entire year. In these works, the idea was not to faithfully reproduce nature, but to combine the landscape with small figurative elements such as small skeletons and monkeys, (see "Forrest Couch" and "The Red Howler" below). Judith's large figurative oil paintings are distillations of both personal narrative themes and the influences from extensive travel to Mexico and South America. A continuing series of large figurative oils depicts phosphorescent female nudes in prone positions suggesting both sex and death. In these neo-romantic works, Judith takes a traditional subject and re-issues woman as a self-contained entity. Exuding a strong animalistic presence, these women defy appropriation as if frozen in anthropological time.