James Yeku
---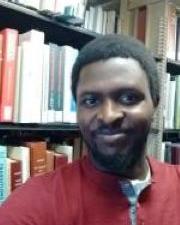 African Digital Humanities
Contact Info
Bailey Hall
Lawrence
1440 Jayhawk Boulevard
Lawrence, KS 66045
---
Biography
—
James Yékú teaches in the Department of African and African American Studies and leads various initiatives in African digital humanities. He is the author of Cultural Netizenship: Social Media, Popular Culture, and Performance in Nigeria, and the collection of poems, Where the Baedeker Leads (Mawenzi House, Toronto). Yékú is currently working on a couple of digital and book projects, including Digital Nollywood, a web-based archive of Nollywood film posters. 
After completing his Master's degree in African studies at the University of Ibadan in 2012, Yékú received his Ph.D. in English in 2018 from the University of Saskatchewan in Canada for his dissertation on social media and the platformization of African cultural productions which shed light on the transformative power of digital media in shaping contemporary African society. This was later published in 2022 by Indiana University Press as Cultural Netizenship, a book that explores the aesthetic and cultural dimensions of internet citizenship. Yeku examines how digital subjects in Nigeria, known for its vibrant digital sphere, deconstruct state power through viral protest selfies, Nollywood-derived memes, GIFs, hashtags, and political cartoons. By analyzing these visual texts, Yékú uncovers the logic of remediation inherent in both the internet's remix culture and the generative materialism of African popular arts. 
In 2022, Yékú was a fellow at the Center for Advanced Internet Studies in Bochum, Germany, and was a winner of the Pius Adesanmi Early Career Research Excellence Award of the Canadian Association of African Studies. For his ongoing research on cancel culture discourses in African online literary conversations, Yékú was, in 2023, a CEDITRAA international guest fellow at Johannes Gutenberg University of Mainz, and later an Alexander Von Humboldt postdoctoral fellow at the Humboldt University of Berlin. 
Education
—
Ph.D. in English, University of Saskatchewan
Research
—
Research interests:
African literature
Digital humanities
Social media
Cultural studies
Postcolonial and Decolonial Theories
Nollywood
Teaching
—
Teaching interests:
African literature
African popular cultures
Black Masculinities
African DH and Social media
Postcolonial and Decolonial Theories
Nollywood studies