Andrew S. Denning
---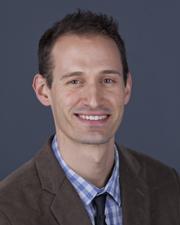 Contact Info
Wescoe Hall 3639
Lawrence
Lawrence, Kansas 66045
Lawrence, KS 66045
---
Research
—
Andrew Denning's research lies at the intersection of technology, the environment, and mass culture and places the study of Europe into transnational and global frameworks. His book, Skiing into Modernity: A Cultural and Environmental History (University of California Press, 2015), examines the relationship between skiers and the Alpine environment since the late nineteenth century. It argues that skiing and winter tourism modernized the Alps in both material and perceptual terms while the Alpine landscape itself challenged skiers to alter their practices and philosophies of sport, leisure, and nature, harmonizing Alpine skiing with modern cultural values and social practices in the twentieth century.
Dr. Denning is currently at work on a new book project. Automotive Empire: Cars, Roads, and the Mobilization of Eurafrica, 1900-1945 examines how European states used motor vehicles and road infrastructure to create a trans-hemispheric Eurafrica to compete with continental-scale powers such as the United States and Soviet Union. It argues that European powers developed a distinct form of "automotive empire" in Africa between 1900 and 1945 that was a departure from previous forms of maritime and railroad empire. The study's trans-imperial approach draws connections among Belgian, British, French, German, and Italian colonies to show that the technological and infrastructural imperatives of motor vehicles and roads in Africa shaped the administration of empire, social relations between colonizer and colonized, and the culture of the automobile in Europe.
Dr. Denning's work has previously appeared in The Atlantic, Environmental History, and Central European History, and he has an article on the role of mobility in Nazi Germany forthcoming in American Historical Review. His research has been supported by the German Academic Exchange Service (DAAD), American Philosophical Society, International Olympic Committee, the Wolfsonian, and the Hall Center for the Humanities and Research Excellence Initiative at the University of Kansas.
Dr. Denning encourages potential graduate applicants interested in working in twentieth-century western Europe and any of his thematic areas of expertise to contact him about graduate study at KU.
Teaching
—
Dr. Denning teaches a variety of graduate and undergraduate courses in twentieth-century Europe and the world seeking to demonstrate the transnational connections that developed in this century of intense nationalism. His courses utilize a wide array of primary source materials ranging from memoirs and political treatises to propaganda films, advertising posters, and graphic novels to encourage students to develop interpretations of the past drawn from diverse media.
Teaching Interests
Twentieth-century Europe, particularly Germany, France, and Italy
mobility
environment
technology
leisure
consumerism
empire
Teaching interests:
Twentieth-century Europe, particularly Germany, France, and Italy
Mobility
Environment
Technology
Leisure
Consumerism
Empire
Selected Publications
—
Denning, Andrew. 2018. "'"Life Is Movement, Movement Is Life!": Mobility Politics and the Circulatory State in Nazi Germany.'" Journal Articles. American Historical Review 123 (5): 1479–1503.
Denning, Andrew. 2015. "How Skiing Went from the Alps to the Masses." Periodicals (newsletter, magazine, etc.). The Atlantic (Online).
Denning, Andrew. 2015. Skiing into Modernity: A Cultural and Environmental History. Books. Oakland: University of California Press.
Denning, Andrew. 2014. "From Sublime Landscapes to 'White Gold:' How Skiing Transformed the Alps after 1930." Journal Articles. Environmental History 19 (1): 78–108.
Denning, Andrew. 2013. "Alpine Modern: Central European Skiing and the Vernacularization of Cultural Modernism, 1900-1939." Journal Articles. Central European History 46 (4): 850–90.
Service
—
Dr. Denning has performed a wide variety of service to the university and the profession. He focuses on issues of undergraduate pedagogy and development in particular; he has served as a faculty adviser for the Center for Undergraduate Research, a Diversity Scholar at the Center for Teaching Excellence, and Study Abroad Coordinator for the History Department.