Robert R. Hurst
---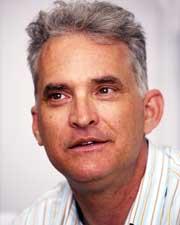 Associate Professor
Director of Graduate Studies
Contact Info
Summerfield Hall 124D
1300 Sunnyside Ave. Suite 230
Lawrence, KS 66045
---
Biography
—
Robert Hurst teaches film and video production and studies courses with an emphasis in sound and post-production. He joined the University of Kansas faculty in 2006. Robert has been making fiction, documentary and experimental films for more than twenty years.
His current project is "Garden City", a documentary portrait of this small city on the High Plains of Southwest Kansas. The film will follow the lives of recent immigrants and long-term residents and will explore contemporary discourse around immigration and migrant labor. Other recent projects as director and producer include The Listeners (2016, distributed by Kino Lorber Films), a feature-length documentary exploring suicide hotlines and the volunteers who answer calls. Recent collaborations include Sound Supervision on Destination: Planet Negro (2013), camera work on Patriot Guard Riders (feature documentary, 2011), The Only Good Indian (feature narrative, 2009), King Corn (feature documentary 2007), Fall From Grace (feature documentary, 2007), as well as museum installations at the African Burial Ground National Monument in Manhattan, NY, and The International Civil Rights Center and Museum in Greensboro, North Carolina.
He has written and directed and short narrative and experimental films as well, including Dream House (2010), about the sleeping lives of dreamers; Burned (2005) which explores surveillance and fear in post-911 America; Bloom/Addendum (2004) two films examining the problems of living with Alzheimer's; and Faker (1999), a 30-minute short about a genetically-engineered but defective girl. Other works consider identity, psychic readings, and include live-action and animated films
Other current projects include Joan Dark, a modern-day retelling of Don Quixote; and The Pursuit of Happiness, a multi-episode series about the massive changes roiling higher education.
Research
—
Research interests:
Sound
Documentary Film
Post-Production
Cinema
Film
Social-Action Documentary
Teaching
—
Teaching interests:
Sound Design
Post-Production
Documentary
Narrative Film Production
Experimental Film
Creative Works
—
Supervising Sound Editor, I Was a Tennage Girl, Apparently, Lyn Elliot, 12/01/2015
Sound Designer/Mixer, A Good Match, Lyn Eliot, 12/01/2013
Supervising Sound Editor, Destination: Planet Negro, Kevin Willmott, 01/01/2013
Destination: Planet Negro 
British Film Institute, BFI Theatre, London, England UK, 10/01/2014 - 10/31/2014
Destination: Planet Negro 
Kansas City Film Festival, Kansas City, MO, 04/01/2014 - 04/30/2014
A Good Match 
Kansas City International Film Festival, 04/05/2014 - 04/05/2014
A Good Match 
Crossroads Film Festival, Jackson, MI, 04/03/2014 - 04/03/2014
Destination: Planet Negro 
Cinema KC, Crown Center, Kansas City, MO, 02/01/2014 - 02/28/2014
Destination: Planet Negro 
Show Me Justice Film Festival, University of Central Missouri, Kansas City, MO, 02/01/2014 - 02/28/2014
Destination: Planet Negro 
Black History Month Screening and Discussion, Black History Month Screening and Discussion, Kansas City, MO, Feb. 2014., Kansas City, MO, 02/10/2014 - 02/10/2014
Destination: Planet Negro 
St. Louis International Film Festival, St. Louis, MO, 11/22/2013 - 11/22/2013
Destination: Planet Negro 
Our Image Film and Arts Festival, Houston, TX, 10/01/2013 - 10/31/2013
Destination: Planet Negro 
Kansas International Film Festival, Kansas City, MO, 10/15/2013 - 10/15/2013
Destination: Planet Negro 
University of Indiana, "The African American Independent: The Films of Kevin Willmott", Bloomington, IN, 10/15/2013 - 10/15/2013
The Only Good Indian 
University of Indiana, "The African American Independent: The Films of Kevin Willmott", Bloomington, IN, 10/14/2013 - 10/14/2013
Destination: Planet Negro 
Our Image Art and Film Festival, Houston, TX, 10/13/2013 - 10/13/2013
Destination: Planet Negro 
67th Annual University Film/Video Association Conference, Chapman University, Orange, CA, 08/01/2013 - 08/31/2013
Destination: Planet Negro 
19th Annual Black Harvest Film Festival, Chicago, IL, 08/20/2013 - 08/20/2013
Destination: Planet Negro 
67th University Film & Video Association Conference, Orange, CA, 08/07/2013 - 08/07/2013
The Only Good Indian
Starz Westerns Cable Television Network Broadcast, 05/01/2010 - 05/31/2013