Mark Eugene Mort
---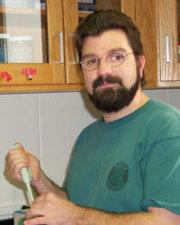 Professor/Associate Curator
Ecology & Evolutionary Biology
KU Biodiversity Institute
Contact Info
Haworth Hall 8006
Lawrence
1200 Sunnyside Avenue
Lawrence, KS 66045
---
Biography
—
Dr. Mark Mort studies the evolutionary relationships of the angiosperm family Crassulaceae using DNA sequences from chloroplast and nuclear gene regions
Research
—
Reconstructing the evolutionary relationships of the angiosperm family Crassulaceae using DNA sequences from chloroplast and nuclear gene regions.
Examining the patterns of physiological and morphological evolution of Aeonium on the Canary Islands. This ongoing project is in collaboration with Drs. Javier Francisco-Ortega (Florida International University) and Arnoldo Santos-Guerra (Botanical Garden of Puerto de la Cruz, Tenerife, Canary Islands).
Preliminary phylogenetic analyses of the South African members of Crassulaceae, focusing primarily on the evolution of the large, morphologically-diverse genus Crassula. This project will involve extensive fieldwork in South Africa in collaboration with Dr. Ernst van Jaarsveld (Kirstensbosch Botanical Garden), Gideon Smith and Priscilla Burgoyne of the Natioinal Botanical Institute of South Africa.
Research interests:
Angiosperm phylogenetics
Island evolution
Physiological evolution
Systematic methods
Crassulaceae
Asteraceae
Biogeography