Nishani Frazier
---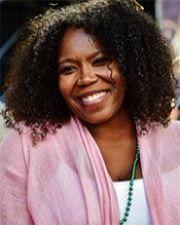 Contact Info
Bailey Hall 213Q
Lawrence
1440 Jayhawk Boulevard
Lawrence, KS 66045
---
Biography
—
Nishani Frazier is Associate Professor of American Studies and History at University of Kansas. Her research interests include 1960s freedom movements, oral history, food, digital humanities, and black economic development. 
Education
—
Ph.D. in History, Columbia University
M.A. in History, Columbia University
Research
—
Research interests:
U.S. History post 1865
African American History
Public History
U.S. History, 1960s and 1970s
Black Feminist History
Archives
Black Nationalism and Food
Oral History
Digital Humanities
Selected Publications
—
Frazier, Nishani. 2019. "A 'New Direction': A History-Based Proposal for a Sustained Black Community." Other. Next System.