Julius Kyakuwa
---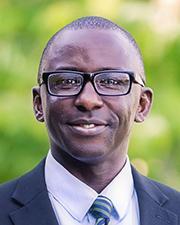 Contact Info
Murphy Hall 448C
Lawrence
1530 Naismith Drive
Lawrence, KS 66045
---
Biography
—
Julius Kyakuwa is an Assistant Professor of General Music Education at the University of Kansas, Division of Music Education and Music Therapy. Dr. Kyakuwa received his Ph.D. from Louisiana State University, and both his Bachelor of Music Honors and Master of Music, cum laude, in Music Education from The University of Pretoria (UP) in South Africa. Prior to joining UP, he pursued undergraduate studies at Makerere University in Uganda, his native country. Dr. Kyakuwa is a seasoned music educator having taught general music for several years in Uganda and in South Africa. As a world music performer and educator, he has conducted workshops and master classes to music educators around the globe on integrating the arts in music classrooms and teaching music from a multicultural perspective. Dr. Kyakuwa also taught African music theory and practice, ethnomusicology, and world music to undergraduate and postgraduate students of music education and music therapy at UP.
Dr. Kyakuwa's research interests include community partnerships with schools, arts integration and creative teaching of music, multicultural and culturally responsive pedagogy, and music teacher education and professional development. He has presented his work at state, national, and international conferences, including the Society for Music Teacher Education Symposium, National Association for Music Education's Research Conference, the American Education Research Association Annual Meeting, International Society of Music Education Conference, the Pan African Society of Musical Arts Education conventions, and at music education conferences in Louisiana. Dr. Kyakuwa's publication activity includes a single-authored book chapter, a multi-authored article in the Journal of Research in Childhood Education, a second-authored article in the Arts Education Policy Review, and short essays in The Qualitative Report.
Education
—
Ph.D. in Music Education, Louisiana State University
M.A. in Music Education, University of Pretoria
B.A. in Music Education, University of Pretoria
Research
—
Teaching approaches that value the diversity and multicultural classroom settings in the United States and in countries around the world continue to be included in music standards and curriculum guides. In addition, is the need to use culturally responsive pedagogies as one way of realizing Diversity, Equity, and Inclusion (DEI). These topics would benefit from added research and add to existing knowledge. Multicultural music teaching, DEI in the music classroom, and culturally responsive instruction and how these concepts relate to music teacher preparation, music teacher professional development, and general music teaching, are areas of research that have and continue to interest me.
In my most recent study, I examined the perspectives of teaching Cajun music by two preservice elementary music teachers as ethnic members of the Louisiana Cajun culture. I examined how teaching multicultural/multiethnic music from a culture-bearer position enhances the participants' elementary music teaching process while recognizing students' cultural backgrounds through culturally responsive teaching.
Research interests:
Multicultural music education
Diversity, equity, and inclusion in the music classroom
Culturally responsive instruction
Music teacher preparation
Music teacher professional development
General music
Teaching
—
As a musician and music educator, I regard music making and learning as a space for self-expression, a platform for knowledge acquisition, self-discovery, and social support. As such, I provide environments that support these elements to highlight the potential of each student as unique individuals with specific educational needs and styles. I use activities that integrate hands-on activities, encourage brainstorming, assimilate cooperative study projects, as well as individualized tasks that engage and activate each student's learning ability within the community of the classroom. I believe in the use of an integrative education approach for students to tap into prior knowledge and experiences to support understanding of new concepts. Students become active participants rather than simply reproducing an artificial meaning out of the learning process. When equated to daily life, we learn from activities that we engage in as we develop new knowledge supported by our life's experiences.
Valuing of individual identities and practices within the community of the classroom is an important aspect of education that I highlight as an instructor. My teaching aligns with culturally responsive pedagogy as it allows individual students to use their cultural experiences and backgrounds as strength. Through social support, self-discovery, a learner-centered, and a culturally responsive instruction, students become self-expressive and the best of themselves, which helps them to succeed in their learning. Teaching, to me, is also about learning from your students, colleagues, parents, and the community as a lifelong process.
Teaching interests:
Culturally responsive teaching
Integrative learning
Self-expression
Self-discovery
Social support
Individual abilities and learning potential
Learner-centered teaching
Selected Presentations
—
Kyakuwa, J. (5/31/2012). African Music and the Orff approach in the music classroom: Practical strategies for a successful convergence
. A workshop conducted with Orff member teachers in the Johannesburg area in South Africa, Orff Schulwerk Society of South Africa. Johannesburg, South Africa