Ebenezer Babatunde Obadare
---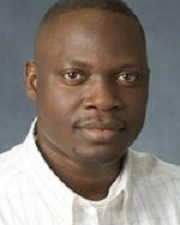 Contact Info
Fraser Hall 741
Lawrence
1415 Jayhawk Boulevard
Lawrence, KS 66045
---
Biography
—
Ebenezer Obadare (PhD, London School of Economics; Professor of Sociology) is a civil society scholar, with particular interest in informal strategies of resistance under changing dynamics of rule. He has also researched and published extensively on religion and politics, civic engagement, and civic service and citizenship in Africa. He is author/editor of seven books, including Humor, Silence, and Civil Society in Nigeria (Rochester, 2016), Governance and the Crisis of Rule in Contemporary Africa: Leadership in Tranformation (Palgrave Macmillan 2016), The Handbook of Civil Society in Africa (Springer, 2014), and Civic Agency in Africa: Arts of Resistance in the 21st Century (James Currey, 2014). His essays have appeared in the Review of African Political Economy (ROAPE), African Affairs, Current History,  Politique Africaine, Journal of Civil Society, Democratization, Patterns of Prejudice, Africa Development, Critical African Studies, Development in Practice, Journal of Modern African Studies, Africa, Journal of Contemporary African Studies and Journal of Church and State, among others.
Education
—
Specialization
Transnational Migration, Comparative Societies, Civil Society & the Public Sphere, Social Change & Development in Africa
Research
—
Professor Obadare's research focuses on:  Transnational Migration, Comparative Societies, Civil Society, Social Change, and Development in Africa. His ongoing research focuses on Pentecostal pastors, power, and politics in Africa.
Research interests:
Civil Society and the Public Sphere
Religiosity and Politics Civic Service and Citizenship
Civil Society, Religion and Politics
Transnational Migration
Teaching
—
Teaching interests:
Civil Society and the Public Sphere
Religiosity and Politics
Civic Service and Citizenship
Civil Society, Religion and Politics
Transnational Migration